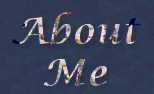 Well, about me, this is the hard page for me. I am going to go into a lot of things about me here, so as I said before grab a cup of coffee or your favorite beverage, get comfy and come along.
To start at the beginning would take forever, but I must start close to the beginning, so here goes. I was born August 11, 1966 Melisa Falls. I was shortly thereafter adopted by my wonderful parents and renamed Karyn Elayne Miller. I have recently begun the difficult search for my birthmother or birthfather. This is not an easy task by any means, and for those of you who have been searching, good luck, I have had a difficult battle with the struggle over search or don't search, well, obviously I choose to search. I am in the early stages of searching and have chose to step back for just a little while. It is a very emotional task to take on and I was afraid that my family was suffering for my searching. So, speaking of family. :-) I have a wonderful husband whom I have been married to for almost 16 years now. We were married in June of 1986 and there is nothing we wouldn't do for each other. We have walked through some really bad times together and somehow we keep coming out the other side, hand in hand, so it must have been meant to be. We have two beautiful children. A boy who is 13 and has ADHD but is a wonderful person. A daughter who is 6 and the angel in my life. She is a child that was sent from God, ya know those that you are on birthcontrol and get anyways?! We also have an older child(his daughter) who is 22 and the light of our life. We are so proud of her. She is going to be a nurse one day, but right now she is working as an LVN at a veteran hospital in Texas. Now that you know about my family, this is me.
I am a fun loving out going person. I love people and making new friends. I have a small circle of friends here in the real world that make it a fun place to be. My favorite thing though is to be here on line. I love to play with graphics and have even learned to build my own pages with the help of Melissa. Oh, there is that name again, without this Melissa I would not be where I am today graphically, or in many other ways. You see Melissa is my bestest friend. Anywho, I stray again, I don't find it easy to talk about myself. LOL I am a Leo, yes I am in every sense of the term. I do live up to my sign. I can be very strong and unyeilding when I need to be and very caring and tender, which is most of the time. I love to read and watch movies with the kids and spend time with the hubby. We love to go camping and hiking and just go exploring this beautiful state we live in. We live in New Mexico and yes it truly is the "Land of Enchantment". We moved here from California about 5 years ago to get our children out of Los Angeles, and you would have a really difficult time getting me to go back. I was a pharmacy technician in California but since moving here I have been mainly a stay at home mom and I love it! I can really see a difference in our son since I have been home, so working mom's if you are thinking about it, it is worth the sacrifice of the paycheck to be with your children. Anywho, I guess I will go now, you have a bit of insight into my world. Oh, and by the way, yes I am a real blonde! :-) LOL Get asked that alot, and I do do blonde things, all the time.
Please go and see my WHY page, it may give you a little bit more info on me too. :-)