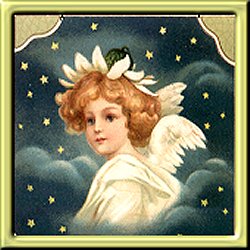 My First Christmas In Heaven


I have had my first Christmas in heaven,
And Oh, what a glorious day;
I stood with the Saints of the ages,
Who knew Christ as the Truth and the Way.

I heard the great heavenly choir,
What rapture to hear them all sing;
And Oh, what celestial music;
They sang for our Savior and King.

They sang the glad songs of redemption,
How Jesus to Bethlehem came;
And how they had called His name Jesus,
That all might be saved through His name.

They sang once again, all the angels,
The song they had sung that blest morn;
When shepherds first heard the glad story,
That Jesus, the Savior, was born.

Oh, Dear Ones, I wish you had heard them,
No Christmas on earth can compare;
With all of the rapture and glory,
We witness in heaven so fair.

You know how I've always loved Christmas,
It seemed such a wonderful day;
With all of my loved ones around me,
The family so happy and gay.

Oh yes, now I see why I loved it,
And oh, what a joy it will be;
When all of my loved ones are with me,
To share in the glories I see.

So, Dear Ones on earth, here's my greetings,
Look up till the day dawn appears;
And know what a Christmas awaits you,
Beyond all our partings and tears.


Author Unknown
Tina, I read this little story and thought of you and your lil angel
I wanted to make it into something special just for you.
This next one is just for you as a reminder of just how
much you are loved and thought of.
If God had a refrigerator

If He had a wallet, your photo would be in it.
He sends you flowers every spring.
He sends you a sunrise every morning.
Whenever you want to talk, He listens.
He can live anywhere in the universe, but He chose ... your heart.
Face it, friend-He is crazy about you!


God didn't promise days without pain, laughter without sorrow, sun without rain, but He did promise strength for the day, comfort for the tears, and light for the way.

Know that I am here for you now and always!
From my lips to God's ears and your heart!
Love and Hugs,
Karyn