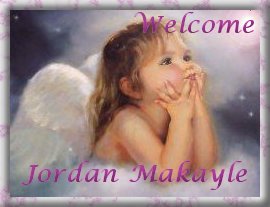 This page was made to welcome you,
Jordan Makayle Luna.
You came into this world at 10:29pm on Thursday the 27th of December 2001. You weighed in at 6 pounds and 9 ounces, 19 inches long. Your Daddy joked that you were right in time for taxes...ha ha funny Dad. :-) Your Mama said that try as they might they couldn't get you to cry. Sounds like a Luna to me. Your big brother Joey got to cut your umbilical cord, with the help of dad. How exciting that must have been for him! Your brother Jacob can't kiss you enough. You are such a lucky little girl. Such wonderful protective big brothers you have. I feel sorry for anybody that thinks they can give you a hard time or ever try to do anything to hurt you.
Your Mama and Daddy are so proud of you. You are such a very special addition to the family.
So, this is just my way of letting you and your family know that I too think you are a very special little girl. We all welcome you with open arms and full hearts.
I am now just waiting for your Mama to get some pictures developed so that we can put them up and your Uncle Andy, in San Diego and any other family you have that can't be here with you can see how absolutely gorgeous you are. If they can't be here to watch you grow, as I am lucky enough to be, then I will be sure and make it so that they can.
Love and Hugs for you and your family,
Karyn